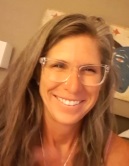 Owner/Director
Rena has been involved with SCVA volleyball for over 20 years. She has coached for Western County, Mavericks, Avalon Aces, Riverside, Lake Matthews, Rancho Valley, Pacific Jrs., and Protege clubs and is proud to be the "Mom" of Rogue. Rena is also a proud parent of volleyball children, having survived coaching all of them. Her oldest, Katie, started her on the club path. Katie is now a Div.I linesperson and scorekeeper. Her daughter Camille, is a three time Div. II All American setter that now coaches club and high school in San Juan Capistrano. Her son Duke, a 6'4" oppo, coached club in Claremont and Huntington Beach.
Along with her club coaching, Rena officiates club volleyball and is also is a collegiate lines person. Rena is also proud to be on the coaching staff for Victor Valley College. She is the Head Coach for both the indoor and beach intercollegiate women's volleyball teams. She also volunteers for Mojave Valley Special Olympics as the volleyball coach.
Head Coach 16 Rose
I play volleyball indoor and outdoor for Victor Valley College. I have played volleyball since I was in 5th grade. I played for Rogue for two years and for Rena for three years. I played at Sultana High School for 3 years. I decided to stay close to home for my first years of college. I hope to transfer to a different college. My major is undecided right now, but I am interested in sign language, nursing, and teaching. This is my first-year coaching volleyball.
Asst. Coach 18 Sage & 15 Silver
Mary is a collegiate volleyball player at Victor Valley College. She has played volleyball since the age of twelve. Although her playing career has mostly consisted of school and rec ball, she has also had a fair share of club as well. At Silverado H.S. she received Coaches Award, two MVP awards, All League and Outstanding Senior Athlete for Desert Sky League. After high school she played at Cheyney University of Pennsylvannia, Div. II. Mary decided to return home to Victorville and VVC in hopes for a more promising future in volleyball fueled by her passion for the game. She intends to become an artist whose work impacts viewers positively.
Head Coach 15 Silver, Asst. Coach 16 Rose
Head Coach 13 Roguettes
Alexa Is a collegiate volleyball player at Victor Valley college. She has been playing since the age of 13. Her playing career consisted of school and Club. At Silverado H.S she received Coaches Award, MVP Award, All league and Outstanding Senior Athlete for Desert Sky League. After high school Alexa decided to stay home and attend VVC to Study to became a Nurse , while playing the sport she loves